Hello to you, my fellow Bringer of Light and Pioneer of Love and Truth 🙂
Anyone else feel like they are creating a new energy field for themselves?
It feels a bit like a sacred seclusion on some levels ~ I'm curiously excited for what is next, what we Are, going forward.
I love where we've come so far in our ascension processes and I feel confident and incredibly supported in the ever increasing levels of love, truth and light that we are accessing and offering here on Earth.  What an incredible honor and joy to be doing so alongside you.
Some announcements for you:
1) For those who missed last week's powerful message (or want to re-listen), it is here.
2) This week podcast is #198 and is a great message for fresh starts, self-reflection and raw honesty about Earth, the struggles of Earth and what can be done about it. Also, key truths for those who have brought their Eternal Light with them into this incarnation. Goddess Isis assists with this message. The referenced membership page is at https://www.subscribestar.com/jillreneefeeler
Video is here:
Audio is here:
3) And, something I've been discussing with my team for oh sooo long and now feels like the exactly the right time…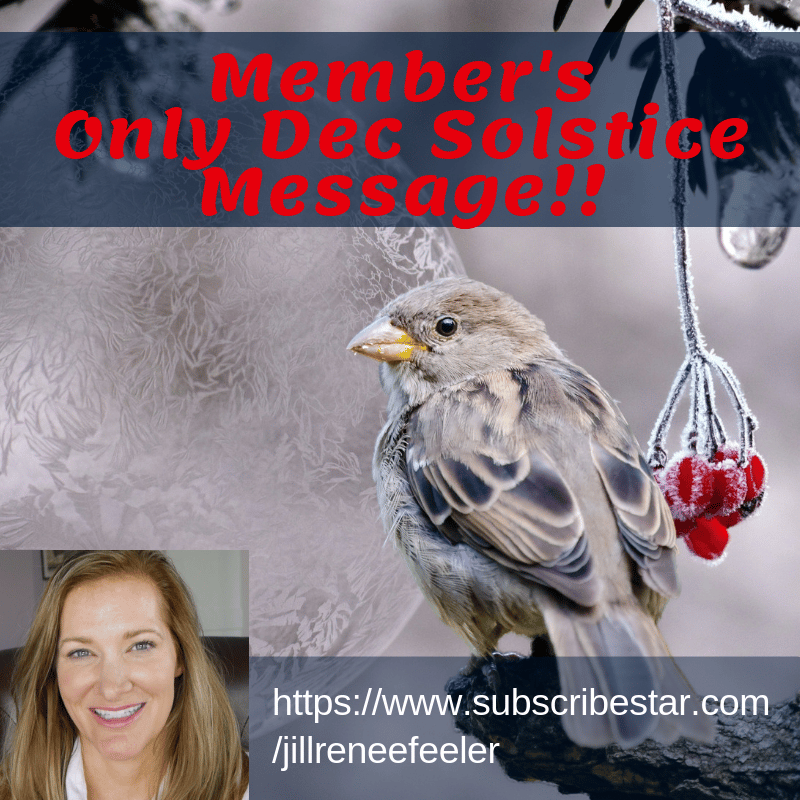 I invite you to consider joining me for a our special monthly membership, which launches with our exclusive, members only December Solstice Message!!!  Details are at https://www.subscribestar.com/jillreneefeeler.  The monthly membership is a subscription service available to you for $14 USD per month, with my firm intention to offer far more value than this nominal cost.
I'm excited for the opportunity to go deeper with you through 1) exclusive monthly online events (including Q&A!) plus 2) regular posts of insights, energetic support, activations, ongoing inspiration for being our eternal light, here. The platform looks like it will work extremely well for us! Plus, I'm not too thrilled with the increased privacy issues on Facebook and have been looking for a better alternative for sharing regular insights from my team. After careful review of this platform, I'm excited to give this a go and can't wait to see what's in store for us 🙂
I love the free, gifted content we offer the world, and that will continue 🙂
4) As always, thank you so much for your support. Sometimes I feel quite far out there on the limb of consciousness. And it always makes me smile to see you right there, too. Stretching the boundaries of Light here to Earth, from the inside out.
Talk with you soon!
With love, gratitude and blessings,
Jill
https://jillreneefeeler.com
Events, private sessions, archived classes, travel, recorded interviews and so much more are available. I LOVE to create and share soulful resources.
Thank you for your support. I appreciate You.