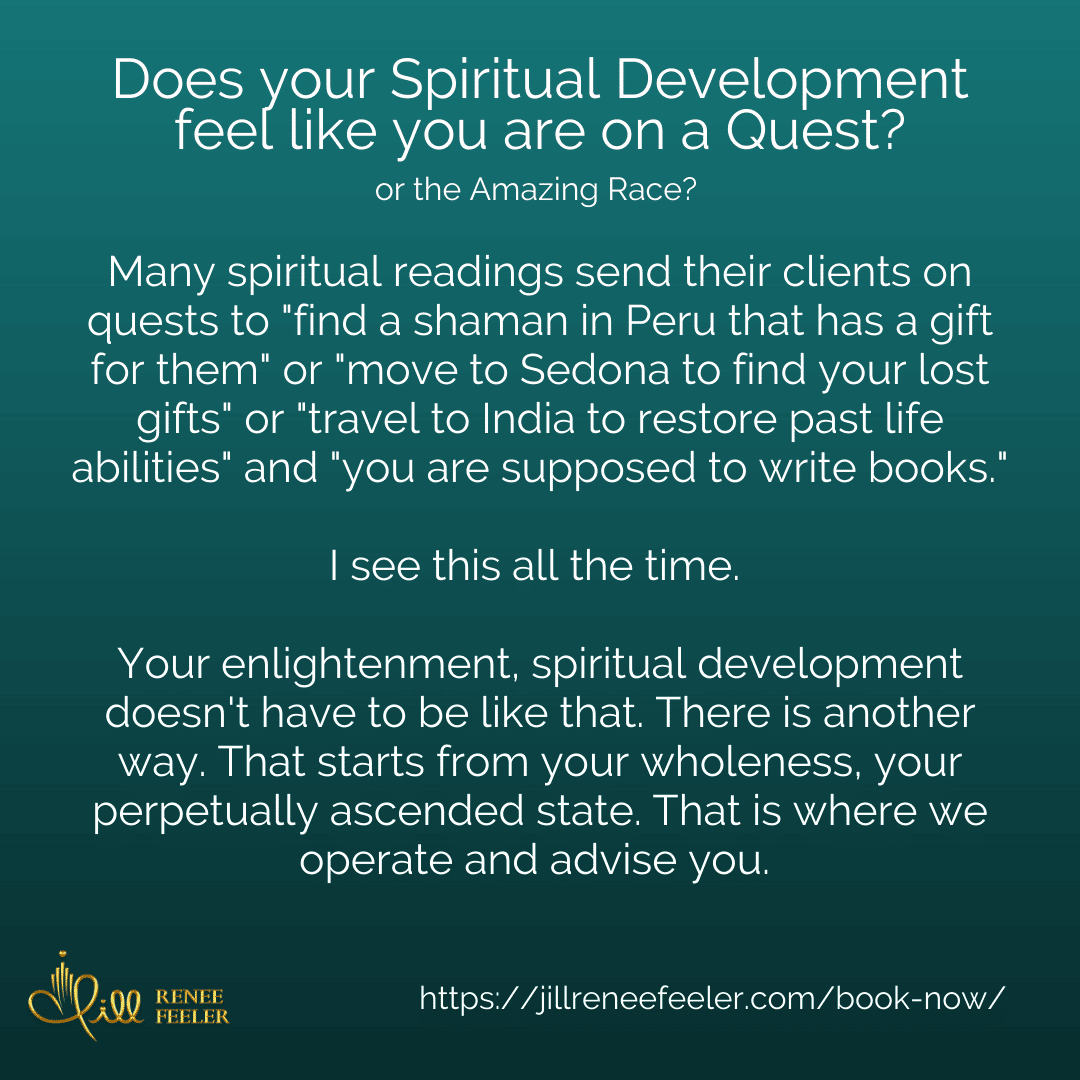 Does your Spiritual Development feel like you are on a Quest?
Or even The Amazing Race?
Many paths to spiritual development and awakening involve quests that can feel like a treasure hunt or even the amazing race. We offer another path forward that starts with your perpetually ascended layers. You will feel liberated. To live the light you are.
For those that regularly receive readings, I'd love to meet with you. We do things very differently. I don't want to know your questions until after I share for the first 1/3 of your session time. They would anchor me to your present vibrational state – we are offering you a dramatic upgrade from that.
Many spiritual readings send their clients on quests to "find a shaman in Peru that has a gift for them" or "move to Sedona to find your lost gifts" or "travel to India to restore past life abilities" and "you are supposed to write books."
I see this all the time.
Your enlightenment, spiritual development doesn't have to be like that. There is another way. That starts from your wholeness, your perpetually ascended state. That is where we operate and advise you.
Our intuitive sessions include my demonstrated gifts in intuition, being a psychic, a medium and a healer.  Sessions, presentations and courses offer our audience:
a new state of wellness, wholeness, self love,
insights for personal growth, spiritual awakening, and spiritual development,
lessons, learning and coaching,
a wonderful accompaniment if you are in traditional therapy or counseling,
tools to handle toxic relationships,
resources to get through tough times for improved emotional and mental health and
assistance for getting through trauma, grief and recovery
Our advice and insights don't include any treasure hunts or quests.
The reviews speak for themselves. Check them out for yourself here.  Ready for your session: Book here
Group readings now available ~ reserve your spot at our next session here!