Outwitting Wetiko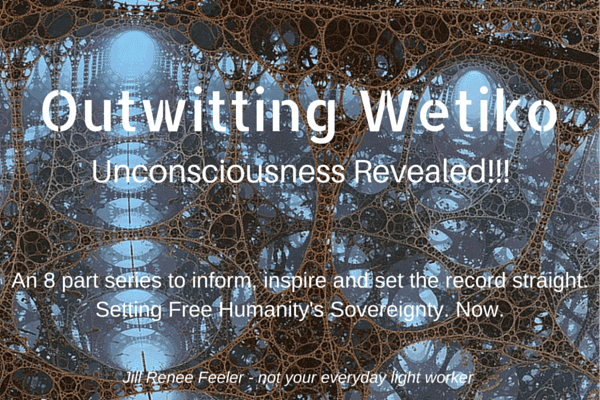 A series to go deep into unconsciousness, which I refer to as "Wetiko", using this powerful force to help us see, clearly the inner workings of this reality, the quarantine that remains and the personal blocks it presents to Ascension, joy and sustainable feelings of enlightenment.
Free sample content, from Episode #1 is here.
A recent customer review from episode 2: "OMGoodness Jill!!!!! Talk about a game changer!!!! There is not enough room here to express what has happened since the call last night. This series is HUGE!!!! Thank you! Thank you! Love you!"
This is an 8 part series available for a one time payment of $49 USD. Purchase offers immediate access to first seven session recordings plus links for live access to the finale (which will also be recorded).
Please note: this series offers content matter unlike anything I've ever done before. I don't recommend it for those that feel timid or sensitive in their light. We go head on with tough and serious topics such as death, dying, the quarantine in place on Earth, suicide and many others. It is shared for the purpose of expanding consciousness and helping us be even stronger in our Light in this reality. But for some, it may make them feel unstable and insecure in their light body.
With love and gratitude,
Jill
PAY NOW BUTTON $49 USD one time payment, lifetime access:
to Purchase Now and enjoy immediate access without delay (paypal Pay Now button below requires a manual process, with some delay in receiving access)
Or, purchase via PayPal's Pay Now button $49 USD one time payment, lifetime access (with some delay in initial access) Please notice: When choosing to pay by Paypal button we need to manually provide you access to this content and this can be a delay up to 24 hours. If you choose Click HERE and pay by credit card, you will immediately have access to purchased content. Why the delay with Paypal, you may ask? The digital content management system we selected doesn't accept Paypal; only credit cards (it's challenging to find one that can do everything I desire). Many of you prefer Paypal so we've programmed a workaround. But access to the purchased content then requires a manual step. I wanted you to know in advance of purchase so that you can decide if you want it right away (choose Click HERE, not paypal button) or if you want to use Paypal and have delay. Sorry for the inconvenience, Jill
If you decided to pay via PayPal and don't have an account with us, it is necessary for you to Click here to Sign up for Account! and then make payment via PayPal via button above.