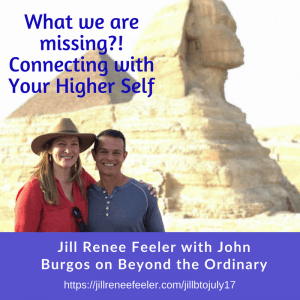 Jill Renee Feeler and what she calls "her team" of divine energies, will share channeled messages, cutting edge truths for moving further into your light. Jill and her team offer a very unique perspective that can be quite blunt and refreshingly clear, all for the purpose of helping you connect with your light, your Sovereignty.
In this call from Beyond the Ordinary with host and creator John Burgos with featured guest Jill Renee Feeler you will receive:
Channeled message dedicated to those that are not yet feeling connected to their light.
Steps for how you can improve your connection.
Why do some have this connection naturally and others don't?
Updated truths and believes to help you feel your light, in your way.
Channeled message: connecting with your team, your way.
Replay is here
"It's time to be honest with ourselves so that we can move forward further into the Eternal light that we Are ~ including here." – Jill and Team
Thank you to Beyond the Ordinary for the permission they provided for me to share this with you here.
The Ten Sovereignty Keys are
HERE