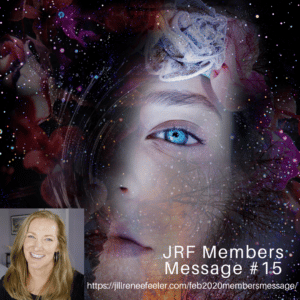 You are invited to JRF Members Message #15
Register

HERE
Monthly messages inspire and inform while offering unprecedented support for personal greatness, for deeper levels of authenticity and for making the mysteries of life knowable. You may be amazed at what's possible ~ now. Let us show you. Event is now complete, archives are available in audio and video formats ~ I cannot wait for you to experience it! Want a Sampler of what we did, at least in the first part (full message is ~1 hr 30 min)? Here you go:
The primary message offered us new strategies for growth, making opportunities and utilizing creation energy in our lives. We also offered our perspective on some news headlines taking place during this sharing (Sen. Bernie Sanders trying to win the Democrat's US Presidential nomination, the Coronavirus, 5G).  The team also had a nice passion around all of the fear mongering/dealing/brokering that takes place with some very popular teachers and leaders, even in consciousness and spirituality communities. The team definitely wanted to encourage us to step back and review ourselves and our patterns if we've become addicted to being afraid.  Very empowering, clear message and I hope you love it!
~ Thank you so much for supporting our work by participating as a member ~
We offer exclusive member events (like this one!), messages and "ask me anything" sessions, each offered live as well as in archive. You can try out the membership with a $14 USD renewing monthly membership (cancel anytime) or you can sign up for a $144 USD full year with a convenient single annual payment and $24 USD savings over the monthly rate. Remember, we turn modern day enlightenment teachings on their head and offer breakthrough concepts for anyone pursuing personal improvement and next level individual success at life.
Together, we are Creating New Heights for Human Greatness on Earth
With love, gratitude and blessings, Jill JRF Exclusive Membership Area