We have a very special Super Blood Moon eclipse on night of September 27-28 2015. The partial eclipse begins at 6:07pm Pacific/9:07 pm Eastern/2:07am London etc.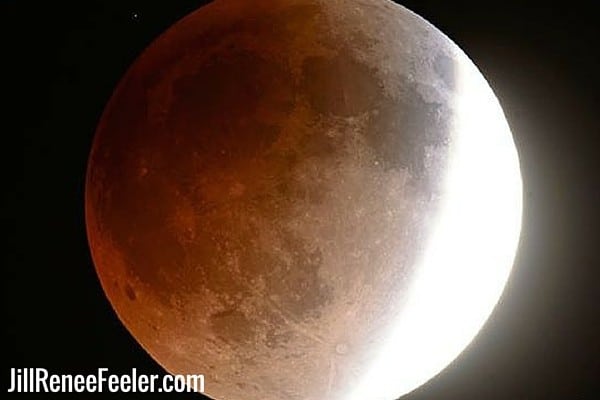 I'm led to create a live event for this special time, sharing a message, meditation and activation with you. As a bonus we also have live calls for the subsequent 2 weeks at the same time, Oct. 2 and Oct. 9 that includes further energetic support and time for Q&A. I'd love to hear from you! Each call will be recorded and available in archive.
I am offering this experience for 77 USD which includes the 3 live events, archive recordings and the 20% discount on the recently launched Living as Your Higher Self series.
This blood moon is the 4th in a series, ushering us out of the energetic year of 2015, and into the 2016 energies which initiate Oct. 1.  This feels very significant, exciting and deeply sacred.  I'm asked to provide a series for each of us, supporting us in accessing, sustaining and strengthening our light-based frequencies at this time. Why?  Because we can and because it benefits us personally and collectively the more of our light-based energies we are accessing, from within and emanating into this reality through our personal lives. Let's leave nothing not the table, nothing untouched by the Light of Source Creator God within.
This series of live events will offer each participant:
unparalleled connection to the Holy Spirit within you.
trustworthy divine connection that will blow your mind (and keep your beautiful brain in check)
a fresh start to your 2016
a blessed ending to your 2015
trust… in you
support… from your Soul Signature
community… unlike any other.
As an additional bonus I am offering a 20% discount on the Living as Your Higher Self series which launched this last week. The series sets you directly into your Soul Signature energies, patterns and frequency ranges in a tangible, practical and deeply divine manner. Check out the testimonials here.
Can't wait to share this experience with you on Sunday and over the next 3 weeks!!!
With love and gratitude for all that this community is doing at this time,
Jill
Link to the astronomical details is here
Link to some degree of religious hype related to the 4 blood moons is here
Click here to Purchase Now