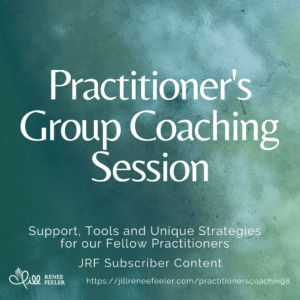 Practitioner's Group Coaching Session



A JRF subscriber event, part of our exclusive content ~ Support, Tools and Unique Strategies for our Fellow Practitioners, whether they be official or unofficial in their light work, supporting the best in themselves and others in this often strange world.
Recordings available (in audio and in video) by signing in if you are already a subscriber or by acquiring your own JRF subscription here.
Ideal for anyone that is building a business to handle the growing number of humans that we've been told are awakening on the planet right now. It's also a fresh perspective for those that tend to go into research mode as opposed to just trying things out and seeing how it will go, then adjusting as needed.
Questions asked and answered in this call
From Natasha:
Which opportunities should I take in putting myself out there, where should I be seen? What's best for me right now.. need to focus my scattered energy atm to pinpoint a starting point.
From Kimberly:
I find myself jumping around (like a professional dabbler) from interest to interest. I initially like many things, try them, and get bored very quickly. From the outside world this could look like I'm lost, too picky or unfocused. I don't think that's it. I held a previous career (teaching martial arts) for 25 years, Do I keep trying new ideas or try to make myself stop this pattern?
From Karen:
When dowsing I ask to connect at the highest level, I do this for friends – Sometimes for referred people …I have sometimes connected at Galacric council level / lately I get the feeling they are one and the same ..- am I right ?
From Ella:
I feel like all 3 ideas [from my session with you yesterday] I have need me to wake up my brain and do more research on before I ''go for it'' – developmental theory and children and breath work and the voice.
But these are huge subjects and the moment I start research mode, I feel like I am looking into a bottomless pit and get overwhelmed.
Any tips on how to research and allow it to be more containable and less chaotic? TOO much research also sets me up to lose momentum. Any thoughts? How to relax my brain and create a little order before I just go for it?