Addicted to Pain? Jill Renee Feeler will address it on May 26th, 2015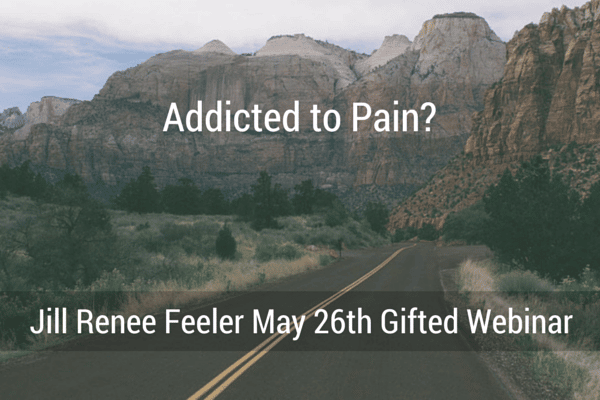 Are you wanting an expansion of consciousness, an increase in your vibration, a more personal connection to your Soul Essence but somehow feel blocked? Are you at times annoyed with those on their spiritual path that are "too happy", shiny and loving? Are you almost more comfortable with a more negative vibration around you or even within you? Even if you aren't one of these beautiful beings, you may know someone who is. And we have a message for you, to help you re-ignite your core connection to Spirit, that is beyond the pain, the hurt and the anger.
Click here to Sign in to your account.
or
Sign up for a free account!
"For those that know pain, sometimes we look for pain, unconsciously. Beautiful comrades, shadow work need not be a sadomasochist experience…. There is another way. But if your shadow is looking for pain in this reality, that in itself is something that needs a fresh approach. Otherwise it's just feeding itself again and again, not unlike an addiction to cutting.
For authentic healing and authentic ascension it requires expansion beyond the dimensions of pain, into the pure Light at the deepest levels of Self. Yes, at our deepest levels there isn't pain, there is Light… Truth!
We have another way of ascension, with amazing proven results. And you get to stay in the bodysuit (what a concept)!
We start with your Core Light, connecting you to that, which you need in order to effectively and efficiently process and navigate the pain-based energy patterns.
XOxo,
Jill"