Not Receiving our Newsletter… but you signed up for it?

I miss you, too!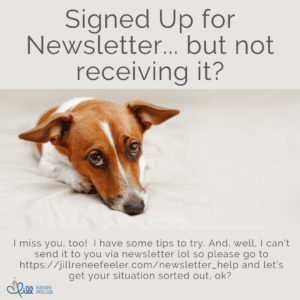 Well, that can be frustrating!  Let's get your situation straightened out with the tips below, ok? 
I'm not the most savvy marketer but I do try to use my newsletter usually 2-3 times per month to 1) share special messages, 2) inform you of new offerings you may want to be a part of, 3) providing links to recent or upcoming experiences. 
Email providers offer spam filters, which can be great for reducing unnecessary, unwanted emails flooding your inbox. But, when you signed up for a newsletter or opted in via a purchase, it can be frustrating that these same spam filters block information and content you opted in to receive.
For those who use Gmail, they aren't just looking for spam but they are also wanting to warn you about potential viruses or phishing attempts that could infect your computer or steal your information. Unfortunately, they also regularly block perfectly safe emails. Checking your spam folder or even trash folder occasionally is necessary to train your email provider what is actually spam, trash, safe senders, so it can move the items you want into your inbox where you can see it upon arrival.
I can assure you that my newsletters and its contents are 100% virus free and perfectly safe to open, click, explore and enjoy.
Let's use the steps below to help train your email provider that you actually did select to receive my content and want to see it in your inbox as it is sent to you.
I use a newsletter service called mailchimp. Between their help articles and some other digging (Kim Komando's site was particularly helpful!), this is what I learned for you to try, ideally from a desktop device as many options needed do not show up on a mobile:
1.  Check your email's spam folder
If you haven't been receiving my newsletters, you will want to check to see if they're being sent to the spam folder.
Log in to your email account, and then click on the "Spam" folder or icon to open this folder.
I send newsletters about 2-3 times per month on average. Search the Spam folder for jillreneefeeler.com.
If you find newsletters or email from me there, then simply select an item from me, and then look for a "Not Spam" option to select.
2.  Add me to your contacts
Next, you will want to add me to your contact list just so we know this won't happen again.
You can do it manually by selecting "Contacts" then click the "New Contact" as name: Jill Renee Feeler, email: jill@jillreneefeeler.com then "Add Contact."
3.  Virus warning
If you see a Virus Warning on one of my messages or newsletters, you will need to choose the option "Ignore, I trust this Message"
4.  Phishing warning
If you see a warning on one of my messages or newsletters, warning of a possible phishing attempt or scam, just look for option for "Not Spam"
5. Gmail Users, a few extra steps so it isn't buried in a Promotions Tab
Find of our newsletters in your Promotions tab and click the box in front of it. Drag the item to your Primary tab or Inbox, or select the item and choose to Move it to the Primary Tab or Inbox. You will still want to add me to your Contacts list, as in Step 2 above.
Gmail and other email services may go through updates which may toss my newsletter again into spam or flag it, making it invisible from you in your usual inbox. To me this isn't a "sign" that you aren't supposed to see it. It's a sign that these poor email services are doing what they can to keep out the ick and unfortunately blocking the gold at the same time in the case of newsletters you signed up for and emails from trusted service providers like me. Sigh.
I hope this helps!  For those with other tips, please comment below ~ it may be helpful to others.
With love,
Jill