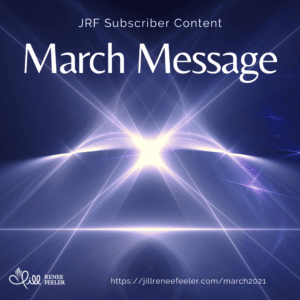 JRF Subscribers March Message



A JRF subscriber event, part of our exclusive content ~ welcome to all who are called to more deeply support and be the Christ Consciousness we are in this world.
When: Sunday March 14 at 11am Pacific/2pm Eastern/18:00 London
note for live event: the US changes our clocks for Daylight Saving Time on March 14 - if you are in an area, like London, that doesn't yet change your clocks for DST, please use a time zone converter from the above stated times.
How: Live by Zoom with video, option for phone with localized number. Replay will be available, in video and in audio formats.
Live access details available by signing in if you are already a subscriber or by acquiring your own JRF subscription here.
Countdown to Live Event | In Your Time Zone (unless your browser settings aren't allowing it to work - Event is Sunday March 14 at 11am Pacific/2pm Eastern/6pm London)
See you There!