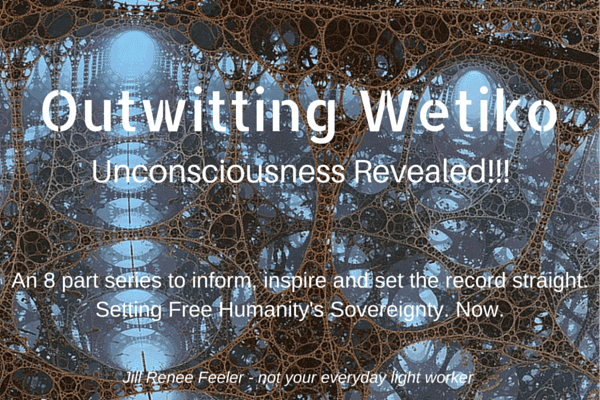 A Series to go deep into unconsciousness, which I refer to as "Wetiko", using Truth to help us see, clearly the inner workings of this reality, the quarantine that remains and the personal blocks it presents to Ascension, joy and sustainable feelings of enlightenment.
Free sample content, from Episode #1 is
here
.
A recent customer review from episode 2: "OMGoodness Jill!!!!! Talk about a game changer!!!! There is not enough room here to express what has happened since the call last night. This series is HUGE!!!! Thank you! Thank you! Love you!"
And another participant comments: "The freedom and the levels of sovereignty that I've accessed since I started listening to Outwitting Wetiko has been so rewarding, and so surprising... I feel brighter in my Light! I needed this series because I wasn't going to engage this level of Light from where I was before. I had to expand in this other layers of unconsciousness, and to be able to see everything at a different angle. I wasn't sure that I was ready or even interested in this series. But I've got to tell you, I'm loving it!! I absolutely love it and I feel like that it's supportive to everything else I've done in my spiritual awakening. It integrates and upgrades everything that you've, that we've, created so far in spiritual teachings." - JM This is an 8 part series, including 12 hours of life changing audio recordings, available for a one time payment of $127 USD. Purchase offers immediate access to the eight powerful audio recordings. Please note: this series offers content matter unlike any I've ever done before. I don't recommend it for those that feel timid or sensitive in their light. We go head on with tough and serious topics such as death, dying, the quarantine in place on Earth, suicide and many others. It is shared for the purpose of expanding consciousness and helping us be even stronger in our Light in this reality. But for some, it may make them feel unstable and insecure in their light body. It is quite advanced and highly unusual material that many of us were waiting for... to move further into our Light in this reality, amidst what is. By facing it head on. Boldly and confidently. For those led to it, it is an honor to be sharing it with you. With love and gratitude, Jill
Click HERE